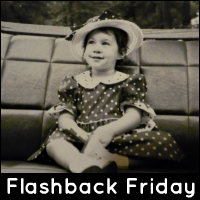 On Friday's
Camille
runs a fun blog hop called Flashback Friday.
The rules are simple, simply link up an old picture, video, or post, and have fun! I like it because it gives me a valid excuse to go through the old photo albums.

Today I found these oldies but goodies. That's me about to get in the plane. My second oldest was 6 months old, the oldest was 5 (they're 20 and 25 now). It was a long time ago, but I still remember it like it was yesterday. I always wanted to go back and do it again, but never did get around to it. I opted for the tandem jump, only because you had to take a 6-hour class if you wanted to jump solo, and I didn't want to take that much time away from my little guy. With the jumper on your back you literally got briefed, flew up, and jumped out. Easy Peasy. One of the instructors jumped with flip flops on!! Still shaking my head 20-yrs. later. :)
About to board the plane w/other jumpers
I'm on the far left.
Coming in for the landing.
That's my nephew on the left taking my picture as I land.
He was 6 then (he's 26 now). ;)
If you have an old picture, video, or post that you'd like to share, here's Camille's Code so you can link up too! Happy Friday to you! :)