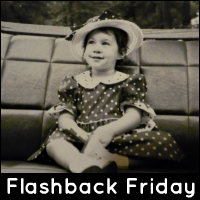 Just curious...do you think of bloggers in groups? I find that if I think of one blog to visit, the same two, three, or even four will come to mind to visit as well.
Maybe it's because I met one through another; they collaborate regularly on a meme; or the blog authors just seem like good friends.
There are also some days I associate with blog activities, though I don't always participate in them consistently, depending on what's on my plate. I like the blog hops, but if I don't have time to hop around, I won't sign up for the day. Friday, I associate with four things, three hops that I have visited pretty regularly since they started, and now Camille's
Flashback Friday
.
Last week was the first time I participated in Flash back Friday, and I think I like it so much because I get to go through old photo albums. My husband has TONS of old pictures that his mom has given him over time, and I love to flip through them. I, on the other hand, only have one small photo album from my childhood, but in it are my mom and dad's wedding pictures, my beloved grandparents (on both sides), and pictures of me and my half brother together. Everyone in the album except me and my mother, has passed, so while it's a little album, it's still very special to me.
In it are about (5) photos of me at various stages throughout childhood. All of the pictures in the little album are getting old now, with little spots forming, yellowing, and fading. The one I've posted today shows some very crooked bangs. My first thought was I must have gotten into the scissors, but then I remembered my mom always cutting my hair, and never getting it straight. People used to tease her about it, so I'm guessing that's what was going on here too. No idea how old I was, but the chubby little arms made me laugh.
The picture's getting old, faded, spotted, and stained...it def. qualifies as a flashback photo because believe you me, it was taken a loooooooong time ago. ;)
You can link up here, if you'd like to hop along. Thanks for hosting, Camille!
http://www.asortafairytale.com/2013/05/flashback-friday_23.html