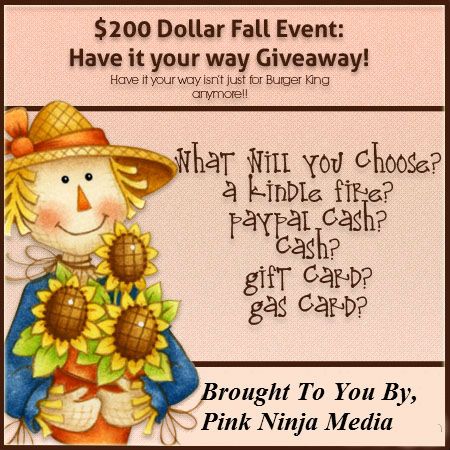 Welcome to The Awesome Have It Your Way Blog Giveaway!
This wonderful event is brought to you by,
This giveaway is awesome because the winner gets to select anything they want, shipping and handling included if it doesn't go over the $200 limit. That's right, anything you want up to $200, you can get it with this giveaway. New dishes for Fall? Check! Those fab new boots you love but wouldn't dare spend two-hundred dollars on? Check! A fire pit for the yard? Check! A gift card to give hubby for Home Depot? Check! Cash via Paypal? Yup. Anything you want, up to $200.
What a wonderful concept! If you've ever wished for a Fairy Godmother, well here you go! You make the wish, the giveaway makes the wish come true (up to $200 ;) ). Read the details here and then enter on the Rafflecopter below.
Details:
Giveaway is open Worldwide.
Giveaway will start on September 20, 2012 at 12:01am EST and end on October 20, 2012 at 11:59pm EST.
One Lucky Person Will Win ANYTHING THEY WANT, valued up to $200 with shipping.
Please use the Rafflecopter form below to enter.
We realize there's a lot of bloggers, so we added extra entries! Earn an additional 25 entries for completing certain tasks on the Rafflecopter. Remember you only have to complete mandatory entries to enter the giveaway, the rest are extra entries. Giveaway runs an entire month so you don't have to finish it in one sitting, remember to come back for daily tasks to earn more. You'll also be introduced to some AMAZING Bloggers, each blogger in this event is awesome and brings something special and unique.
Disclaimer: Mail4Rosey is not responsible for shipment of prize, Jenn's Blah Blah Blog will be responsible for shipping prize to winner. I did not accept any form of payment to help promote this giveaway.